As a university student, you may be at that point in life where you are starting to think of managing your finances as you strive for financial independence—taking up a part-time job or two. With this, the question of where to keep your cash is typically the next concern.
Sure, keeping all your money in your wallet may give it a flattering, thick look, but you wouldn't want to keep all your cash there. For safety purposes, you should consider paying a visit to the bank to get yourself a debit card.
Not only will your money be stored safely, but you may also enjoy benefits like exclusive TGV movie tickets. The perks of having a debit card depend on which bank you decide to sign up with. Thus, it is vital for you to inspect the benefits and advantages of each before you select one.
When choosing a card for yourself, there are several factors that you should take note of. For instance, security, convenience, wide acceptance, online banking, the flexibility of paying bills, and accompanying charges.
To save you the trouble of doing the research yourself, we have compiled a list specifically for university students so you can choose the best bank and debit card for you!
1. CIMB Bank – CIMB Debit Mastercard
With ATMs installed in most universities in Malaysia, CIMB is definitely ranked high in terms of accessibility. This way, you won't have to worry about the extra service charge from using ATMs from another bank, especially since many of us university students are already short on cash.
Besides availability, its convenience is also another one of its strong points. CIMB cards are linked to its online banking platform—CimbClicks. Some critical features provided through the app include instant funds transfer as well as expenditure management.
Besides that, CIMB is also partnered with PTPN, making it the ideal bank for university students to apply for a card with. This partnership allows you to manage your PTPN loan through this card. Besides the app, signing up for the CIMB Debit Mastercard will allow you to enjoy various benefits, including:
1 Debit Card Bonus Point for every RM2 on retail spending
2x bonus points on all retail purchases on your birthday month
Discounts and privileges at participating merchants, including Ripcurl, Timberland & MPH Bookstores
In short, the CIMB Debit Mastercard is convenient and accessible and allows for online banking and flexibility in paying bills. This makes it suitable for university students. You can find more information about this card here.
2. Maybank – Maybank Visa Debit
If you want to keep your spending low, the Maybank Visa Debit is the card for you. Although the default limit is RM1,000, you can set your own purchase limit up to RM5,000.
Furthermore, you won't have to worry about the safety of your savings, as this card has a smart chip installed as a security measure. There are also relatively many Maybank ATMs available, so you won't have trouble looking for an ATM.
Maybank is also partnered with PTPN, so you can manage your PTPN loans with this card too. Maybank also makes banking convenient with its mobile application, Maybank2u. This app allows you to track your online transactions as well as transfer funds.
Now here comes the more exciting part of this card. If you sign up for this card, you will be entitled to enjoy some benefits and promotions, such as:
Exclusive movie tickets from TGV Cinemas
Shopping at over 29 million visa accepted outlets worldwide
Overall, this card covers the aspect of security, convenience, online banking, and flexibility on paying bills. Check their website here for more information.
3. Public Bank – PB MasterCard Lifestyle Debit Card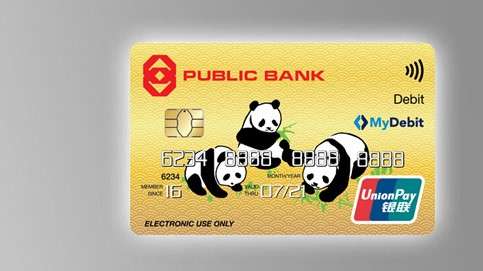 Bearing a unique 2-in-1 combination, this card functions both as a Visa/MasterCard debit card as well as an ATM. This unique trait allows you to enjoy purchases from various retail and outlets, which is an irresistible feature if you are an avid shopper.
If you are afraid that this could prompt you to spend too much, don't worry as this card allows you to set your own cash limit starting from RM3000 to RM10000.
In terms of convenience, they also have an application—PB Engage MY, which allows you to enjoy online banking functions and even track your expenditures. The downside of this card is there may not be as many ATMs available for Public Bank, which may pose as an inconvenience especially if you're a university student with no mode of transport of your own.
As an overview, this card is convenient and widely accepted. It is perfect for shopping fanatics who still want to manage their spending. For more information about this card, visit Public Bank's website here.
4. Citibank – Citibank Clear Card
Known for providing protection against fraud and security of the highest caliber, this bank and debit card is perfect for university students looking for the most secure banking experience. This card has a retail purchase protection policy, so you can enjoy shopping with peace of mind.
In terms of convenience, they have also recently launched their mobile application—Citi Mobile. Citi Mobile has an easy-to-use interface with functions such as tracking expenditures and transferring funds.
With all that said, the key attraction of this card is the benefits and promotions, as it comes with exciting gifts and discounts in the dining, shopping, and entertainment department. Some of its benefits are as follows:
Treats at CBTL- 1-for-1 drinks at Coffee Bean & Tea Leaf outlets from Mon-Fri
3X Citi Rewards Points- 3X Citi Rewards points at selected merchants
Cinema Privileges – Friday 1-for-1 movie tickets at Golden Screen Cinemas (GSC)
Rewards Points that Never Expire – Redeem merchandise or pay for purchases with points that never expire
Worldwide coverage
However, there is still a downside to this card, which is its accessibility. As they have a smaller number of ATMs, so the accessibility to a Citi Bank ATM may be an issue you need to consider. This may make it difficult for you to locate an ATM near campus, which may be a huge inconvenience if you do not own your own transport.
In sum, this card covers the factors of security, online banking, and wide acceptance. For further information on this card, visit their website here.
5. Hong Leong Bank – Hong Leong Debit Card
If you enjoy having a debit card that accumulates additional perks like a credit card, then the Hong Leong Debit Card is suitable for you. It may be of interest to you to know that a bonus interest is provided for every time you swipe with a minimum spend of RM30 in a single receipt.
In terms of security, this card ranks highly as it blocks all Overseas Transactions, Auto Debit and Internet Purchases (non-3D secure transactions). Unfortunately, this aspect of the card may be an inconvenience to you if you're someone who frequently makes use of eCommerce platforms.
Even so, you needn't be too bummed about this blockage as it can be unlocked if you contact the bank. As for online banking, Hong Leong Bank has also launched a mobile application—Hong Leong Connect Mobile, which allows you to enjoy convenient functions such as transferring funds and tracking your spending.
On the other hand, another prominent disadvantage of signing up for this card is its accessibility. You may only be able to find Hong Leong Bank ATMs in big malls or in Hong Leong Bank itself, which may be inconvenient if you're a student.
As an overview, this card covers the aspect of security and online banking. Aside from that, this card also offers other attractions, such as the following:
Bonus interest
Flexible account selections
Great discounts and privileges
If you're interested in finding out more about this card, check their website here.
With that, we conclude the list of the best bank for university students in Malaysia. Although we have compiled the main attractions of each card for you, it is always beneficial for you to do some research yourself.
Even though reading through the nit-picky details of each card may not be an exciting process, it is vital to do so in order to choose a debit card that is suited to your spending habits.
For more articles like this, head over to LokaPost!