It is a known fact that SMEs dominate a huge part of a countries business. SMEs are primarily responsible for driving innovation, and competition in many economic sectors. Although SMEs account for a vast majority of employment, they are susceptible to job destruction or contraction as well. Because of this, the responsibility of managing an SME rests heavily on its CEO's shoulder, as their decision is often the key to either make or break the enterprise.
The management of finances is one of the most fundamental factors in creating a successful business. Thus, choosing the right credit card for your company is incredibly important. Credit cards help cut costs and are often accompanied by various benefits which could make your business more profitable.
So read on to find the best credit cards for your business in Malaysia! 
1. Hong Leong Platinum Business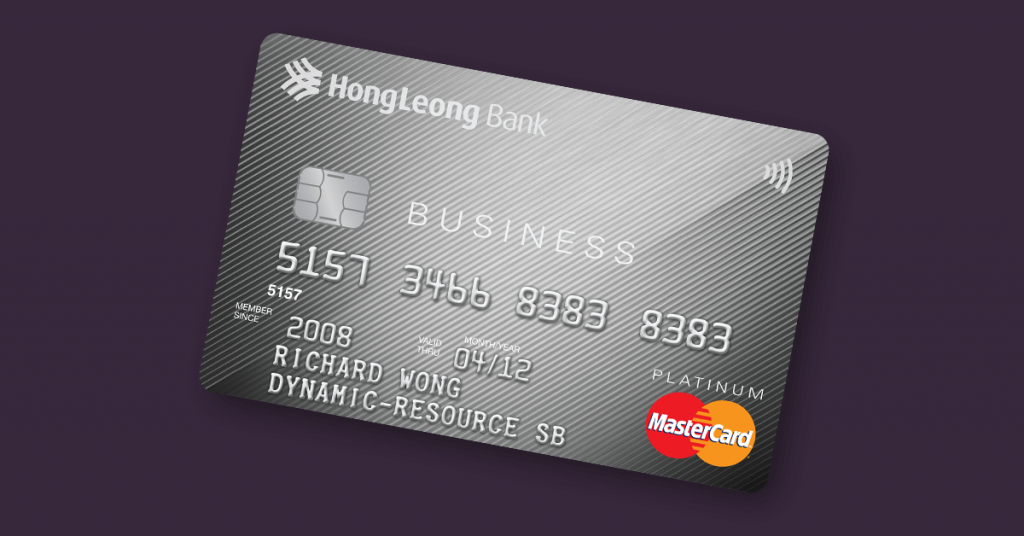 Hong Leong Platinum Business offers a 0% interest credit period for 60 days for all retail bargains, with a credit limit of up to RM300000, making it suitable for SMEs. Besides that, this card also has several enticing perks, which are as follows:
Complimentary visit to Plaza Premium Lounge at selected airports. Subject to minimum retail spending of RM2,500 within 30 days from date of visit
Preferential forex rates on the purchase of foreign currency worth RM30,000 – RM150,000
Travel Accident Insurance and Travel Inconvenience Coverage
Retail Purchase Protection Coverage
6.99% per annum for a tenure of up to 12 months
Interest rate of 15% p.a.
0% Interest Instalment Payment Plan at all participating merchants
Surprisingly, with just 12 swipes a year, you will be exempted from paying any fees or charges. Otherwise, the fee would amount to RM424 (inclusive of GST). Lastly, to sign up for this card, you have to be at least 25 years old with a minimum income of RM10000. To find out more about this card, click here.
2. Maybank Visa Corporate Card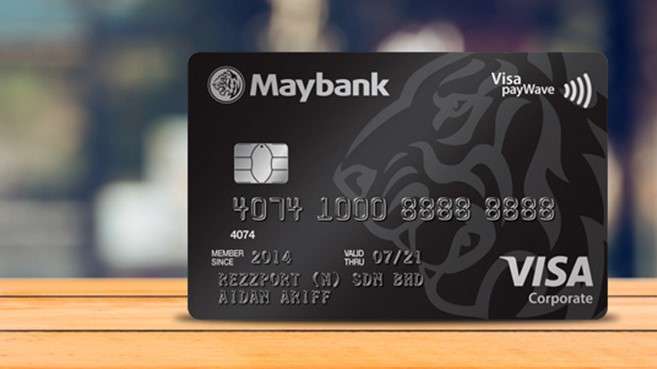 In a business, expenditure does not only come from the trade itself but also from entertaining clients and business travels. This card provides a secure, streamlined business expense management solution and unlimited 0.5% cash rebates on your company's retail transactions. Besides that, it also has numerous benefits in terms of travel, and coverage and convenience. Some of its notable benefits are as follows:
Enjoy complimentary Personal Travel Accident Insurance of up to RM700000 and Travel Inconvenience coverage for missed connections, luggage delay, and luggage loss when airfare is booked through your Maybank Visa Corporate Card.
Reduce travel and entertainment costs
Flexible Cash Flow Management. This card enables you to manage the company's cash flow flexibly, thus freeing up funds for other business use
Maybank 0% EzyPay Instalment Plan- Enjoy 0% Instalment Plan with Maybank Visa Corporate Card which allows easier financial planning
Enjoy 30 days interest-free period from the date of your monthly billing statement if you have paid the previous month's statement in full.
This card can be applied by Small Medium Enterprise (SME) client, Business Banking (BB) Client, and Corporate Banking (CB) Client. To apply, you have to prepare several documents. These include your Business Registration Form, the audited financial statements of the last two years, and company bank statements for the previous 6 months. To find out more about this card, visit this website.
3. HSBC MPower Visa Platinum Credit Card-i
Maintaining a good relationship with your client is one of the critical elements in ensuring a smooth business deal. What better way to show appreciation to your clients than to entertain them with a wine and dine? With this card, you are entitled to major perks in the dining, entertainment, grocery, shopping, and travel sections, such as:
8% weekend cashback on all local dining spending if total spending is RM2001 and above per month
5% weekend cashback on all local dining spending if total spending is RM2000 and below
1% cashback on overseas spending and 0.3% on local spending every month.
RM500000 Travel Accident Takaful when you purchase any travel fares.
8% cashback every day on spending at Giant, Tesco, AEON Big and Mydin if total monthly spending is RM2,000 and above
2% cashback every day on spending at Giant, Tesco, AEON Big and Mydin if total monthly spending is below RM2,000
Exclusive privileges and discounts for the cardholder at over 6,500 retail outlets around the country
0.2% cashback on all local spending
Monthly cashback limit: RM100
This card also offers 8% cashback on petrol at Shell, Petronas, Caltex, Petron, and BHP if your total monthly spending is RM2000 and above. The annual fee for this card is free if you swipe at least once for 12 consecutive months. Otherwise, the fee total is RM420. You have to be 21 years and above with a minimum monthly income of RM3000 to apply. You can find out more about this card on this website.
4. CIMB Cash Rebate Platinum
In this age of technology, more business dealings are beginning to take place online. This is evident in hosting websites and online purchases. If your company's primary mode of business is via online platforms, online spending cashback rates should be your main concern to ensure a profitable online business transaction. If this is the case, this credit card is the best for your business as it offers numerous perks in terms of cashback on groceries, petrol, cinema, and mobile, and most importantly an unlimited cash rebate on online shopping or spending. Some of its benefits are as follows:
Up to 5% Cash Rebate on Groceries, Petrol, Cinema, Mobile and Utility Bill Payment – 5% Cash Rebate for statement balance RM3000 and above. 2% Cash Rebate for statement balance below RM3000
Unlimited cash rebate on retail and online spend – Enjoy unlimited 0.2% cashback on your online and retail shopping sprees
Get automatic cash rebate offers with Mastercard Traveler Rewards. Enjoy exclusive, automatic cash rebate offers from participating overseas merchants when you travel, shop, and pay with your CIMB Cash Rebate Platinum Credit Card.
It may be useful to note that there is no annual fee for this card. Additionally, the sign-up condition for this card is relatively easy to fulfil—you need only a minimum income of RM24,000 per annum to be eligible. For more information on this card, click here.
5. CitiBusiness Card
Providing better control and flexibility for your business finances, the CitiBusiness Card is suitable for those looking to take their business further with a useful payment tool. As this card is tailored to suit the financial needs of SMEs, it covers various aspects that will assist your business, such as having a business-size credit line, greater financial control, monthly consolidated statements, and healthcare benefits. Some of its more prominent perks are as follows:
Higher business-size credit lines to cater to your every growing business needs
Interest-free credit period for your business expenses
Supplementary business credit cards for your directors and trusted employees for their business expenses
Set individual employee credit limits giving you better financial control over business expenses
A comprehensive monthly-consolidated business statement reflecting total spending by expense category, specific merchants and individual credit card member (owner and employee) activities
Exclusive healthcare packages carefully selected to help secure your well-being and maintain your health.
20% discount on all Executive Screening Packages (excluding medical officers and specialists' consultation fees)
15% discount on all walk-in hospital room rates (only from RM120.00 and above)
Furthermore, an interest-free period of 20 days will be awarded to cardmembers who pay in full before the payment due date. Unfortunately, for this card, there are no exemptions on the annual fees regardless of the frequency of your card usage—the fees amounting to RM200 per annum. To find out more about this card, click here.
With this, we have provided you with some of the best credit card options for your business and SMEs in general. There are many other credit card options — what we have introduced to you is merely the tip of the iceberg. Just keep in mind that you should look through the benefits and specialties each credit card has to offer as not every credit card is created equally!
You will find that choosing the right credit card for your business is a crucial step in managing your financial needs. allowing you to save while you spend.
Just a tip:
Though credit cards may be convenient, do keep in mind that it is always wise to pay off monthly balances— you could be on your way to sending your company into debt if you stop making full payments.