Digital platforms have become increasingly incorporated into our everyday life. For instance, the emergence of online marketplaces reduces our visits to physical shops. As a result, digital marketing is becoming more prevalent among businesses across various industries. With so many existing and mushrooming businesses, there is a growing sense of competition among many enterprises. 
To build a successful brand, business owners require outstanding and eye-catching digital marketing strategies. Not only can this boost sales, it can also increase brand awareness. This phenomenon has created many job opportunities in the digital marketing industry, thus making it a career worth considering. 
Many institutions in Malaysia offer digital marketing courses. Hence, we have listed the top 10 digital marketing courses that can be found in Malaysia so you can make an informed decision about which course is most suitable for you.
As an authorised partner of the Digital Marketing Institute, Excel Academy provides quality digital marketing courses that cover various industries. Course contents include social media, Search Engine Optimisation (SEO), display and email marketing, strategy and planning, and analytics. 
At a fee of around RM530, students will be taught effective digital marketing strategies that are useful for many different fields. 
Address: VSQ, PJCC, Block 6 Level 5, Jalan Utara, 46200 Petaling Jaya, Selangor Darul Ehsan
Multiple manager surveys have indicated that the digital marketing training provided by New Horizons yield a benefit-to-cost ratio of 4:1. Additionally, many employers reported improvements in productivity and performance among their employees after the training sessions.
Besides that, Knowledge Advisors reported that the customer satisfaction and training quality of New Horizons is ranked in the top 5%. Considering the effectiveness of this digital marketing course, the relatively high course fee of RM3,150 is worth the money. 
Address: Unit 9-11 & 11-7, The Boulevard Office, Mid Valley City, Lingkaran Syed Putra, 59200 Kuala Lumpur.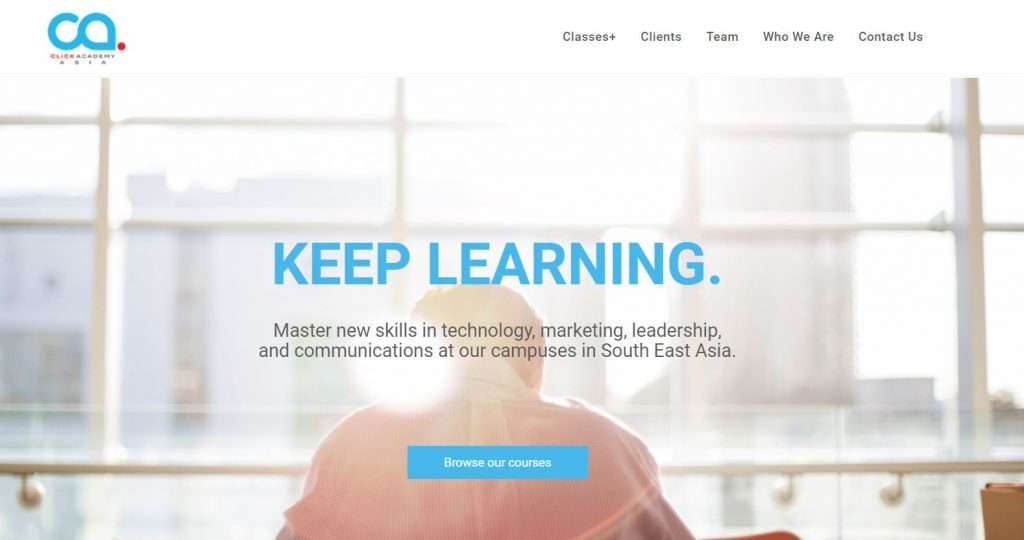 This institution specialises in digital marketing and offers courses that cover all aspects of the current digital marketing trend. Some of the course contents include media marketing, advertising and sales. On top of that, content such as leadership and management skills training and practical communication skills are also included.
By attending the courses, students can explore and learn multiple marketing technology systems and channels, as well as marketing data and metrics. There are also valuable hands-on opportunities which allow students to put theories into practice. 
Address: A-G-07 The Tube @ Prima Avenue Jalan PJU 1/39, 47301 Dataran Prima Petaling Jaya, Selangor, Malaysia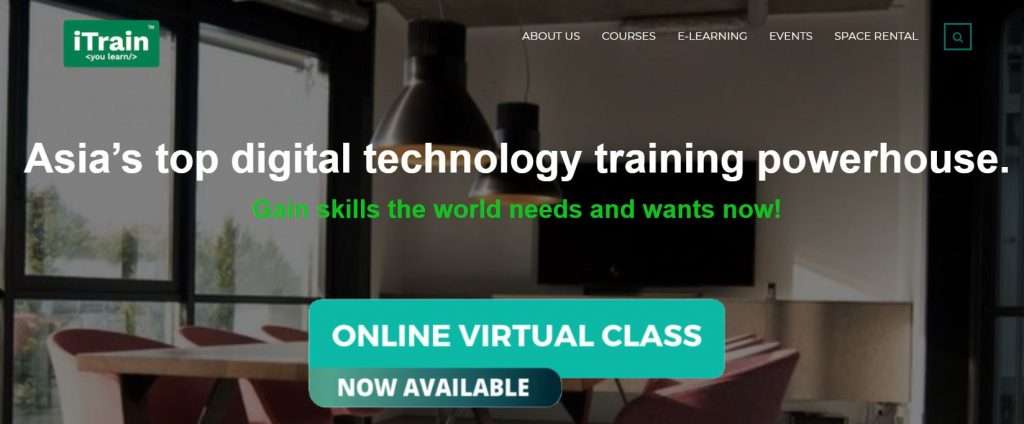 This institution hires highly qualified instructors who are professionals in the digital marketing fields of various industries. The experienced instructors and quality content offered in this digital marketing course are essential to outperforming graduates in the digital economy in Malaysia.
Branding strategy and management, SEO, PPC, analytics and metrics, as well as social media and email marketing, are some of the course contents.
Address: iTrain (M) Sdn Bhd, C-L19-08, KL Trillion, 338, Jalan Tun Razak, 50400 Kuala Lumpur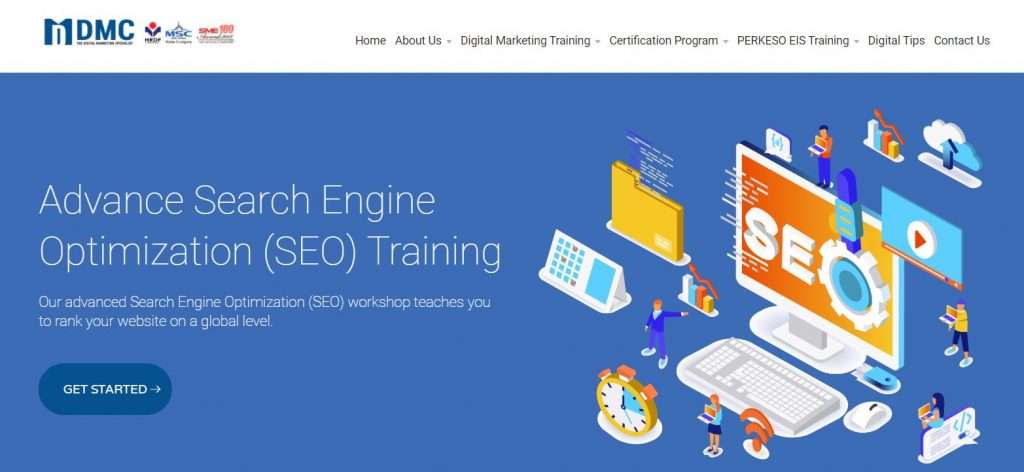 DMC is one of the best digital marketing training companies in Malaysia. Besides providing digital marketing courses for students, DMC also offers coaching and training for corporates. The course fees range from RM1,900 to RM3,600.
Unlike other institutions, the courses of DMC focus on cultivating literacy in WordPress, Google Analytics, GoogleAds, and so on. Students may also learn about topics like SEO, media planning, content marketing, and social media marketing. 
Address: Pusat Dagangan Phileo Damansara 1, Block E – Level 7, Unit 01-02 (701 & E702), No.9, Jalan 16/11, Off Jalan Damansara, 46350 Petaling Jaya, Selangor, Malaysia
This institution provides certified digital marketing training not only in Malaysia but also in many other Southeast Asian countries. Some of the course contents include social media marketing, marketing professional and management, and marketing strategies.
With a course fee of about RM3,999, students will acquire in-depth knowledge and in-demand skills for contemporary marketing techniques.
Address: 36-08 Tower C, The Hub SS2, Jalan Harapan, 46300 Petaling Jaya, Selangor.
NEXT Academy is one of the leading digital marketing schools in Southeast Asia. Besides higher education level students, the courses are also useful for budding entrepreneurs, freelancers, digital marketers, and software engineers. 
This institution encourages fresh graduates to take up some of the courses before diving into their professional careers. Website building, SEO, social media marketing, and advertising are some of the course contents. The tuition fees range from RM2,800 to RM4,950.
Address: A-G-7 Glomac Damansara, Jalan Damansara, 6000 Kuala Lumpur.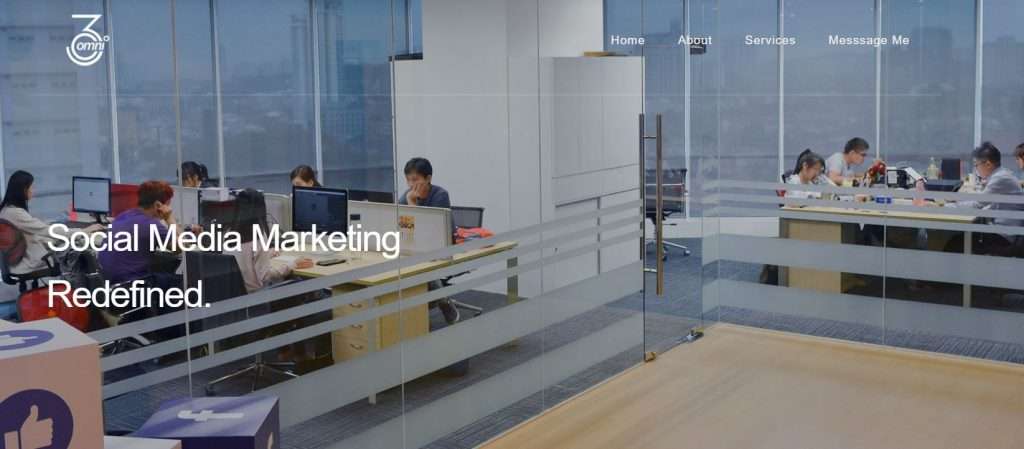 Different from many other institutions, Omni360 is an agency specialising in growing and expanding businesses of various sizes. There are advertising workshops and marketing training that are based on Facebook.
Attending the courses will allow students to obtain in-depth techniques on how to utilise Facebook ads optimally and within a budget. Besides, there are also other useful content topics such as advertising settings, adjustments, and regulations, as well as ad manager features. 
Address: Unit 16-1, Oval Damansara, 685, Jalan Damansara, Bukit Kiara, Kuala Lumpur, 60000 Kuala Lumpur, Federal Territory of Kuala Lumpur
Targeting business owners and professionals, this Executive Learning Network aims to develop and improve the marketing knowledge of their clients. KMDC conducts courses in the form of physical workshops and through online platforms.
The course contents include digital marketing specialisation, video advertising, marketing optimisation, as well as social media, content, email, and search marketing. These courses are priced from RM5,300 to RM5,900.
Address: KDU Glenmarie Campus, Jalan Kontraktor U1/14, Seksyen U1, Glenmarie, 40150 Shah Alam, Selangor
Finally, Cloud Media Academy is a digital marketing academy that specialises in social media marketing. The contents of the courses focus extensively on advertising via Instagram, Facebook, YouTube, and Google. To date, more than 15,000 students have attended and graduated from the courses. 
Address: B-17-03 Atria Suites, Jalan SS 22/23 Damansara Jaya, 47400 Petaling Jaya, Selangor.
There you have the top 10 digital marketing course in Malaysia. Explore other business and finance articles through LokaPost and more!